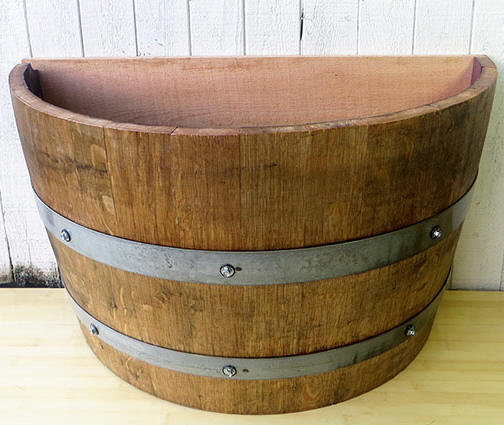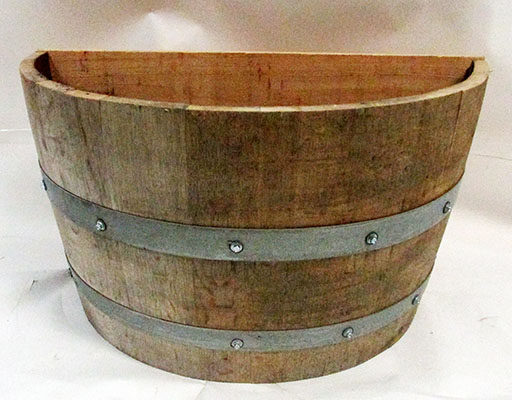 QBP-26L, Wine Barrel Wall Planter with lacquer finished QBP-26, Wine Barrel Wall Planter without finished
All colors shown in the picture may vary because these are made from used wine barrels, each one is different as we get them.
Wine barrel wall planters are designed to has a flat back to stand against a wall for conserving space.
We use authentic oak wood wine barrels with quality and value in mind for your gardening needs. Unlike whisky barrels, classic wine barrels are much better built, and wrapped with three galvanized steel bands to prevent rust which are seen frequently in whisky barrels. Unlike most retailers, we give you the option of drilled drainage holes on the bottoms of your barrel planters. If you plan to use the wine barrels for planting, then drainage holes are needed, so excess water may drain out of the containers without drowning and killing the plants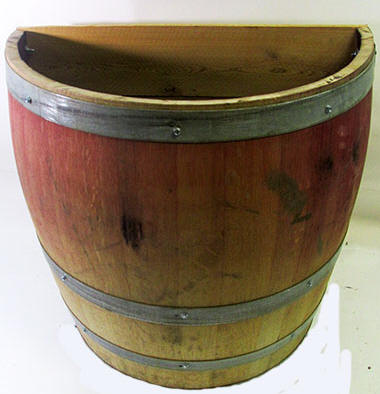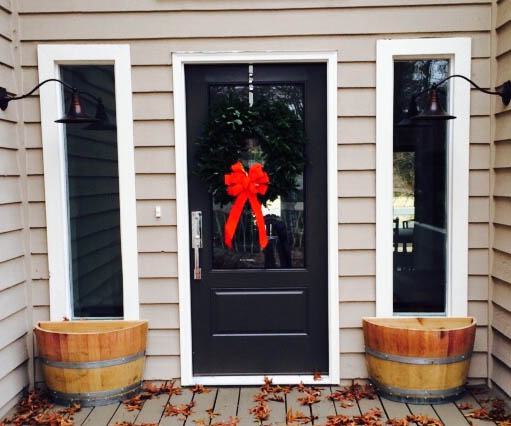 QBP-34, Tall Wine Barrel Wall Planter without finished QBP-26 Picture from happy customer
Key Features
Wine barrel wall planters are designed for locations where space is limited, they will hug against walls or structures for efficient use of space, making them perfect for entrance ways, stairways or doorways.

All oak wood barrel front and bottom, cedar wood bottom and back.

These are quality, genuine wine barrels as oppose to the the rusty whisky barrels sold in large home centers. You could still see the red wine stain inside and smell the actual wine.

Unlike most big chain stores, our quarter wine barrels comes with optional drainage holes at the bottoms to ensure your plants will not be drowned or over watered when planted inside.

Dimension for the quarter barrel is 26" wide the top, 22" at the bottom, height is 18", depth is 13" front to flat back. The tall quarter barrel planter is taller at 27" high.

Elegant, perfect, round barrel body design, with three bands of galvanized steel strapped around the planter. The straps are pegged onto the barrel wall to prevent them from sliding down.
Pricing & Purchase
| | | | | |
| --- | --- | --- | --- | --- |
| Item | Description | Price | Sizes | |
| QBP-26 | Wine barrel wall planter | $64.48 + shipping, | 27"W x 13"D x 18"H | |
| QBP-26L | Lacquer finished Wine barrel wall planter. | $75.98 + shipping, | 27"W x 13"D x 18"H | |
| QBP-34 | Oak wood Tall Wine barrel wall planter | $132.69 + shipping, | 27"W x 13"D x 30"H | |
| QBP-34L | Lacquer finished Oak wood Tall Wine barrel wall planter | $148.49 + shipping, | 27"W x 13"D x 30"H | |