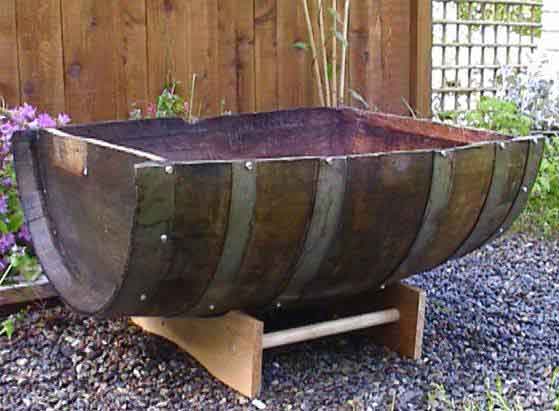 Split Barrel Planter with set of block support SBP-26P, lacquer finished. Split barrel on the saddle
All colors shown in the pictures may vary because these are made from used wine barrels, each one is different as we get them.
These unique split wine barrels are wonderful as indoor decoration stands and outdoor planters. It saves space when used in the corners of your home, yet provides a large planting area outdoors as a beautifully decorated planter as it's large enough to fit all your favorite plants giving your garden a sense of romance.
We give you the option of drilled drainage holes on the bottoms of your barrel planters. If you plan to use the wine barrels for planting, then drainage holes are needed, so excess water may drain out of the containers without drowning and killing the plants. Of course you may also use these barrel planters for other purposes without the need of drain holes at the bottoms.
The red wine stain that remains in the barrels are natural and do not effect your planting in any way. The red stains can be minimized by using baking soda, but complete elimination of the stains may take several times of water change.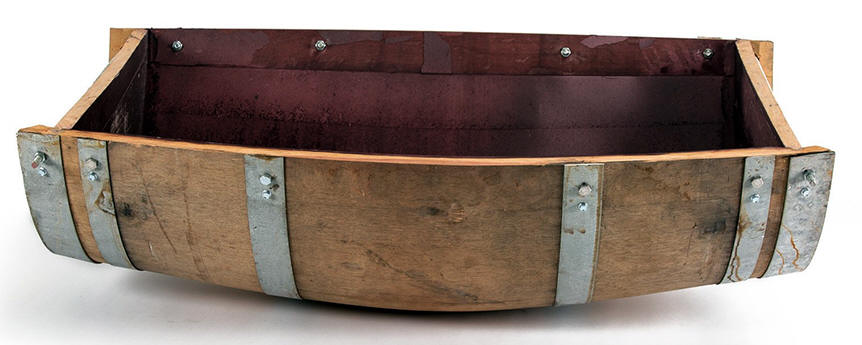 SBP-26 split planteer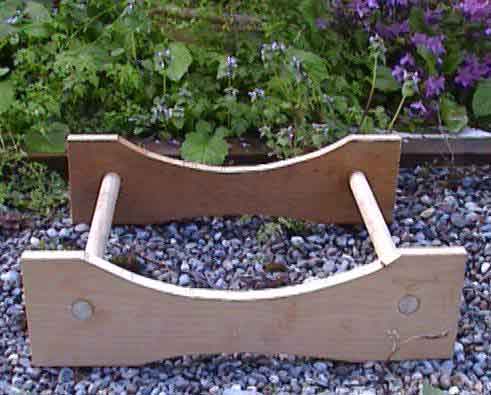 Barrel saddle WBS-20
Key Features
Used as a decoration stand or outdoor planters.

All galvanized screws are used to secure the split barrels for structural integrity and maintenance.

These are quality genuine wine barrels, as oppose to the rusty whisky barrels sold in the large home centers. You could still see the red wine stain inside and the smell of the wine.

Unlike most big chain stores, our split wine barrels come with optional drainage holes at the bottoms to ensure your plants will not drown or be over watered when planted inside.

Made of oak wood and finished with outdoor protective sealing to prolong usage in the garden. The splitting lips of half barrels are sanded to give it an authentic look and feel.

Elegant, perfect round barrel body design, with three bands of galvanized steel strapped around the planter. The straps are pegged onto the barrel wall to prevent them from sliding down.

Use optional barrel saddle supports or block supports when used as planters.
Pricing & Purchase
| | | | | |
| --- | --- | --- | --- | --- |
| Item | Description | Price | Sizes | |
| SBP-26 | Oak wood Split Wine Barrel Planter, weigh 60 lbs | $168.21 + shipping, | 26"W x 35"L x 13"D | |
| SBP-26P | Oak wood Split Wine Barrel Planter, weigh 60 lbs, Gloss Lacquer Finished | $188.18 + shipping, | 26"W x 35"L x 13"D | |
| SBPS-12 | Set of Cedar Barrel Block support | $12.15 + shipping, | 2"W x 12"L x 3"D | |
| WBS-20 | Cedar Barrel Saddle support | $21.75 + shipping, | 16"L x 6"H | b |