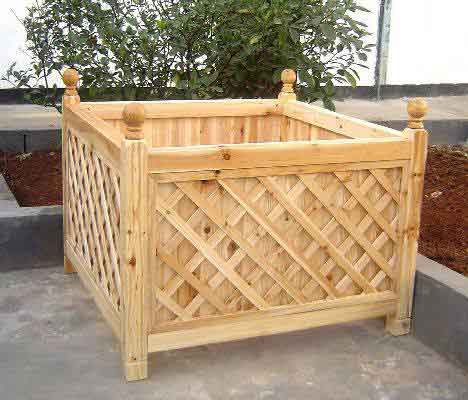 36" Square lattice planter
Lattice planters are made of actual size 2" x 2" white cedar frame brackets and lattice wall paneling. Square dados are cut into the frames and the tongue and groove wall panels are inserted into the "U" channel to form a neat and strong structure. These planters are constructed with a combination of traditional mortise and tenon with locking bolts and nuts to anchor all eight corners of the planter to hold heavy loads. All joints and connections between wood parts are glued and pressed to dry overnight. These solid construction techniques allow us to offer you planters as wide as 36" and as high as 30".
The cedar wood lattice planters are also handcrafted with solid turned ball finial at the top of the corner posts, the bottom of the legs are chamfered with a groove line just right below it. You have the option to use your planter either way for your favorite decorative posts top. The estate planters are finished with a coat of premium tung oil to protect them from harsh outdoor elements. Custom colors are available upon request. Estate planters come in packages of four side panels and one bottom panel. All hardware and tools are provided for easy assembly.
Other optional attachment such as a cedar wood bench is also available in 48" length. Estate Trellis and Villa Trellis are also a very popular attachment for these estate planters.
Key Features
Ball finial top are solid turn at the top of four corner posts, chamfered leg bottoms gives you the option of using either one of the decorative top.

Lattice wall tongue and groove wall panel.

Natural rot resistant white cedar wood, excellent for indoor and outdoor container planting

Joinery of the planters are a combination of mortise and tenon with locking bolts and nuts to hold heavy loads. The sides of the planters are contained within rebated trenches in both the legs and the rails.

Finished with outdoor sealer to protect from outdoor elements.

Can be stained with half oil/half latex outdoor color stain.

Our planters are semi-assembled in our factory for integrity and quality. Easy assembly with just a screw driver. Included in the package are four side panels and one bottom panel, hardware needed for assembly are all included.

Use as tree boxes for commercial and home garden, by the entrance way, side walk, or even around your lamp posts, the options are endless.

Optional add on bench attachment.
Pricing & Purchase
Item

Description

Price

Size

MLS-25

Cedar wood lattice square planter

$92.61
+shipping

25"W x 25"H

out of stock

MLS-30

Cedar wood lattice square planter

$118.42
+shipping

30"W x 28"H

out of stock

MLS-36

Cedar wood lattice square planter

$155.36
+shipping

36"W x 30"H

MEB-48

Bench attachment for planters

$44.53
+shipping

16"W x 48"L

MEB-42

Bench attachment for planters

$38.81
+shipping

16"W x 42"L