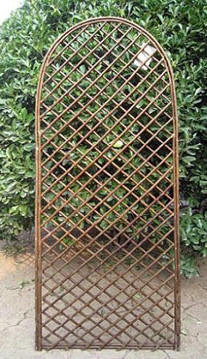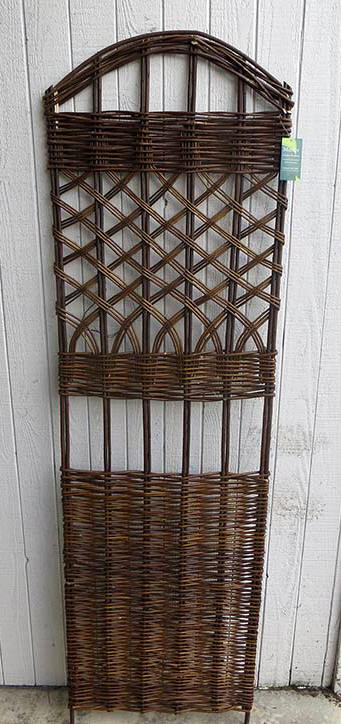 WFT-72R, willow arc top trellis 24"W x 72"H WS-66, 18'W x 60'H WSC-68, 72"H
Our willow trellises are self standing and are constructed with natural willow sticks. Use them for climbing vines or roses or just ornamental purposes. They will add a another dimension to your garden design. They come in different designs and sizes.
The arc top bentwood willow trellis WRT-60 have an artistic arc at the top with square opening, use it for climbing vines, back drop decoration or even as an fence panels. The WFT-72 and WFT-72R are full lattice trellis fence panel with diamond opening. The woven willow style WS-66 give you another dimension in designing your English garden theme.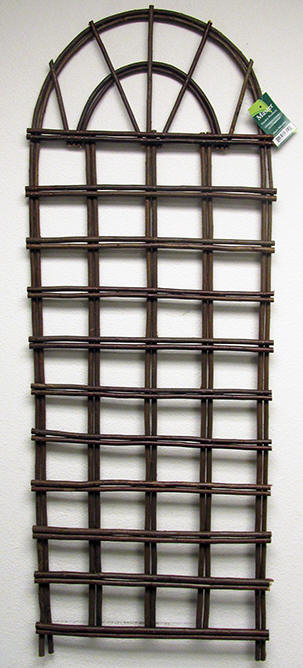 WFT-72, willow Trellis 24"W x 72"H WLT-72R, 24"W x72"H WLT-48R, Planter Trellis 18"W x48"H
WFT-48R, Planter Trellis 18"W x48"H
Key Features
Willow trellis offer support for climbing vines.

Ornamental and practical in your garden.

Different designs and sizes to suit your need.

Put them over your favorite planters.
Pricing & Purchase
| | | | | |
| --- | --- | --- | --- | --- |
| Item | Description | Price | Sizes | |
| WFT-72 | Willow Flat Top Full Trellis | $21.85+ shipping, High shipping cost due the size, contact us for multi pcs order. | 24"W x 72"H | |
| WFT-60 | Willow Flat Top Full Trellis | $17.85+ shipping, High shipping cost due the size, contact us for multi pcs order. | 24"W x 60"H | |
| WFT-48 | Willow Flat Top Full Trellis | $13.15+ shipping, | 18"W x 48"H | |
| WFT-48R | Willow Round Top Full Trellis | $14.65+ shipping, | 18"W x 48"H | |
| WFT-72R | Willow Arc Top Full Trellis | $23.25+ shipping, High shipping cost due the size, contact us for multi pcs order. | 24"W x 72"H | |
| WFT-60R | Willow Arc Top Full Trellis | $19.25+ shipping, High shipping cost due the size, contact us for multi pcs order. | 24"W x 60"H | |
| WLT-72R | Willow Round Top Trellis | $28.25+ shipping, High shipping cost due the size, contact us for multi pcs order. | 24"W x 72"H | |
| WLT-48R | Willow Planter Trellis | $16.31+ shipping, | 18"W x 48"H | |
| WS-66 | Woven Willow Trellis | $22.25+ shipping | 18"W x 60"H | |
| WS-68 | Woven Willow Trellis | $25.43+ shipping | 18"W x 72"H | |