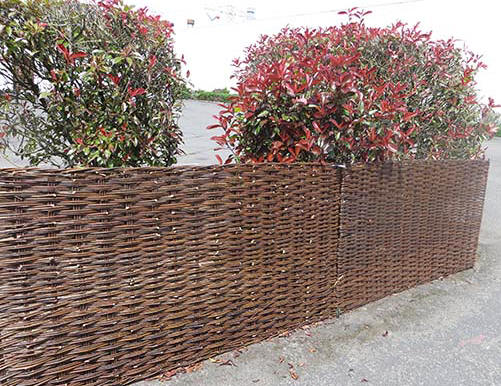 Willow Woven Pedestrian fence WWPF-36
The willow woven pedestrian fence is designed for pedestrian control. The solid woven willow panel helps keep the traffic and trash away from your property. Sturdy and economical, the pedestrian fence is made of sustainable willow material ideal for gardens, parks, etc.
The woven willow pedestrian fences comes in two sizes, 3' or 4' high and they are of standard 6' long. Easy to install. The flexible willow vertical pattern panel come in 24" high. If you are installing over a very curvy line or in a circular pattern, you should use the vertical woven panel.

WWPF-24V verticle pattern willow pedestrian fence
Key Features
Constructed with natural brown willow sticks.

Full panel construction, total concealment.

Easy set up, pre-built fence sections.

Vertical woven pattern for circular installation.

Pre-assembled, no assembly required.

Optional wood stakes available.
Pricing & Purchase
Item

Description

Price

Size

Pick your quantity bundle after add to cart

WWPF-24V

Vertical Woven Willow Pedestrian Fence

$33.58 + shipping

72"W x 24"H

WWPF-36

Woven Willow Pedestrian Fence

$49.18 + shipping

72"W x 36"H

WWPF-48

Woven Willow Pedestrian Fence

$64.25 + shipping

72"W x 48"H

GWS-40

Garden Wood Stakes

set of 4 / $4.00 + shipping
set of 8/ $6.00 + shipping
set of 12 / $8.00 + shipping

40"H x 1.5"D