Bamboo pole walls
Our bamboo pole walls are designed to go up on any flat wall or ceiling material. Excellent for green building projects, this material is ecologically and environmentally friendly!
Bamboo pole walls are constructed with half 3" diameter split poles with a flat back that is pre-assembled at 4' wide section. They present the natural bamboo poles look. They are excellent for making the natural bamboo wall, ceiling, and any other places that may need it. They are available in regualar yellow or black bamboo.
Can be installed vertically or horizontally with easy installation. Just fasten them onto the surface of a structure with screws. We recommend finishing your bamboo wall project with a bamboo molding as the top cover for a completed look.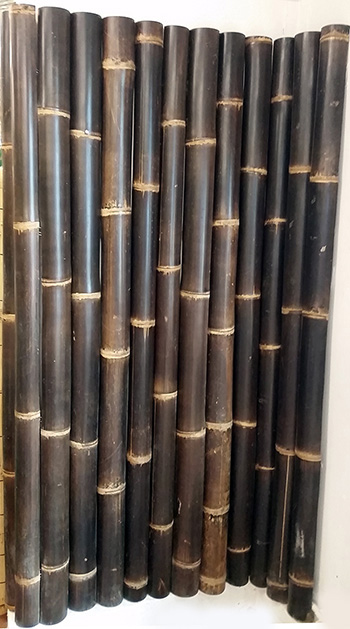 Black Bamboo Wall BBW-46 Yellow Bamboo Wall RBW-46

BBPW, Black bamboo wall cover on ceiling and post.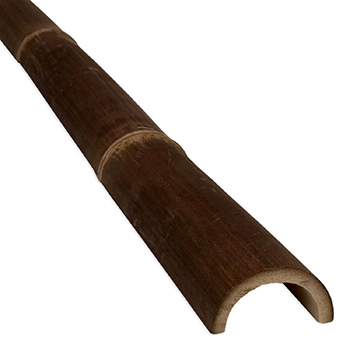 BSC-03Half round bamboo BSC-03Half round black bamboo
Key Features
Natural 3 inches wide half round yellow or black bamboo pole walls.

Comes in prebuild panel for easy transportation and installation.

Provides an authentic natural bamboo appearance.

Use them on the wall, ceiling, building, etc.

Regular light greenish yellow color or black with gloss acrylic finish.

Great decoration for the restaurant and other hospitality premises.

4' wide section.
Pricing & Purchase
| | | | | |
| --- | --- | --- | --- | --- |
| Item | Description | Price | Sizes | |
| RBPW-46 | Yellow Bamboo Pole Walls, regular finished, 6' high. | $55.27+ shipping | 4'W x 6'H | |
| RBPW-44 | Yellow Bamboo Pole Walls, regular finished, 4' high | $40.27+ shipping | 4'W x 4'H | |
| BBPW-46 | Black Bamboo Pole Walls, regular finished, 6' high. | $58.82 + shipping | 4'W x 6'H | |
| BBPW-44 | Black Bamboo Pole Walls, regular finish, 4' high. | $43.82 + shipping | 4'W x 4'H | |
| BSC-03 | Half Round Bamboo, 2.5"-3" diameter | $13.33 + shipping | 2"-2.5"D x 8'L | |
| BSC-03B | Half Round Black Bamboo , 2.5"-3" diameter | $16.63 + shipping | 2"-2.5"D x 8'L | |