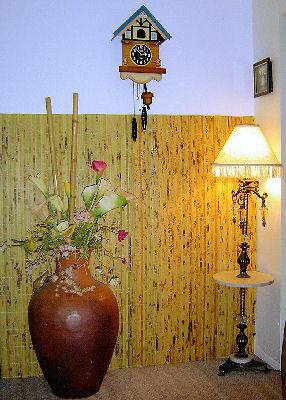 Bamboo wall cover natural finished BCB-4S BCB-6, tortoise bamboo patches finished,
Our wainscot bamboo wall cover is great for walls or ceilings. It is delivered in rolled form, providing flexibility in shipping and installing. The bamboo wallpaper cover is constructed with thin, flat, natural bamboo. The slats comes in 1/2" wide and 1/16" thick, with a cotton net backing.
Installation is easy. Just apply a coat of glue to the cotton net backing or you can nail or staple them to a wall or ceiling. You can use our bamboo molding for a finished look. Please click, working with bamboo moldings for more information on finishing your bamboo wall and ceiling projects.
We offer three different types of bamboo wall covers:
The skinless bamboo wall cover comes in two popular colors, the natural blonde and the carbonized caramel color. BCS-6 and BCS-4 comes in a blonde color and the BCS-6C and BCS-4C comes in a caramel color.
The plain outer skin bamboo wall cover BCR-6 and BCR-4 are made of natural green 3/4" skin bamboo strips, with a cotton mesh back for applying adhesive to the wall. Please note that the green will eventually fade to a more yellowish color. BCS-4S is made of plain bamboo with a silver string tied around the outside of the cover. It only comes in 4'H.
We also have available the BCB-6C and BCB-4C that are a carbonized caramel color with a tortoise pattern.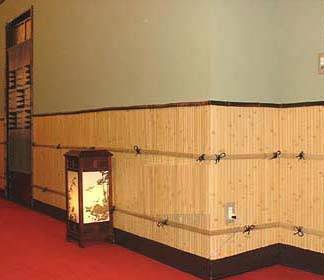 Aged BCR installed w/bamboo molding BCS-6 Caramel color. BCS-6, blonde color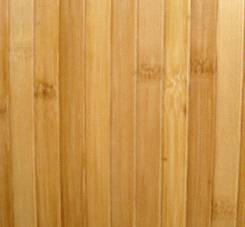 Bamboo wallpaper BCR-6 BCS-6K, no skin oak color.
Key Benefits
Bamboo wall cover wainscoting give tropical finish on the interior.

Skinless bamboo slat cover with blonde color or caramel carbonized finished.

Skin on bamboo slat wall covers come in either natural bamboo or tortoise styles, with no color or brownish carbonized finished.

Can be used to cover up walls and ceiling like wallpaper.

Low maintenance as bamboo skin is highly resistant to stains. It is extremely dense that not even liquid can penetrate.

Comes in rolled, easy installation around corners.
Pricing & Purchase
| | | | | |
| --- | --- | --- | --- | --- |
| Item | Description | Price | Sizes | |
| BCR-6 | Rolled skin on bamboo cover, natural bamboo green finished. | $54.65 + shipping | 6'H x 8'L | |
| BCR-4 | Rolled skin on bamboo cover, natural bamboo green finished. | $51.82 + shipping | 4'H x 8'L | |
| BCB-6 | Rolled skin on bamboo cover, tortoise bamboo patches finished. | $54.37 + shipping | 6'H x 8'L | |
| BCB-6C | Rolled skin on bamboo cover, carbonized tortoise bamboo patches finished. | $58.37 + shipping | 6'H x 8'L | |
| BCB-4 | Rolled skin on bamboo cover, tortoise bamboo patches finished. | $53.31 + shipping | 4'H x 8'L | out of stock |
| BCB-4C | Rolled skin on bamboo cover, Carbonized tortoise bamboo patches finished. | $56.31 + shipping | 4'H x 8'L | |
| BCS-6 | Rolled bamboo cover, skinless, blonde color. | $54.51 + shipping | 6'H x 8'L | |
| BCS-4 | Rolled bamboo cover, skinless, blonde color. | $44.23 + shipping | 4'H x 8'L | |
| BCS-6C | Rolled bamboo cover, skinless, carbonized brown color. | $56.22 + shipping | 6'H x 8'L | |
| BCS-4C | Rolled bamboo cover, skinless, carbonized brown color. | $45.78 + shipping | 4'H x 8'L | |
| BCB-4S | Rolled skin on bamboo cover with strings, tortoise bamboo patches finished. | $47.32+shipping | 4 'H x 8'L | |