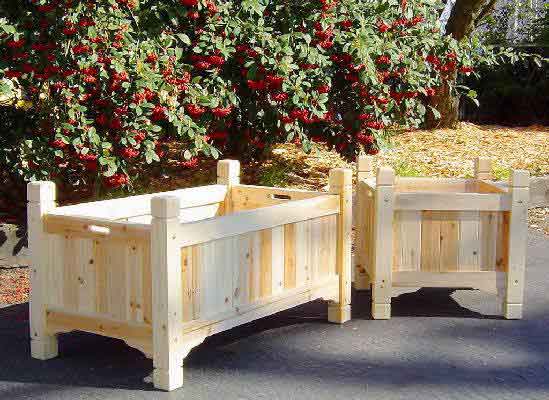 Chalet White Cedar Planters Chalet Octagon Planter
Chalet wood planters are made of white cedar wood, which is naturally rot resistant, you can use the planter in direct contact with soil if you wish.
Our Chalet cedar wood planter line comes with a variety of shapes and sizes. Unique design figures built into these planters including chamfered post tops, decorative handle openings at two of the side panels, and gracious arc support at the four corners on the bottom makes these planters beautiful and durable.
If you are shopping for planters, please take a look at these other unique planters that could be of interest to you, like our Bamboo Planters, Estate Planters, Villa Planters, Log Planters, Tub Planters and more!

Chalet Square Wood Planter Chalet Rectangle Wood Planter
come with five sizes Rectangle planter come in 4 sizes

Chalet Pedestal Wood Planter wall Chalet Octagon Wood Planter
Used as diving wall or barrier Unique octagon shape planter