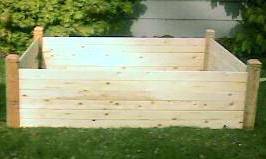 MRB-46, 4'W x 6'L x 2'H Raised bed in the garden
Our cedar wood raised bed kit is one of the most versatile and convenient ways to create an instant garden anywhere in your yard, even on the pavement. Our raised bed is constructed with northern white cedar which is naturally rot resistant. We use interlocking tongue and groove cedar planks to build the beds' side wall panels. Sections can be added on easily to almost any size.
Raised Bed Gardening is becoming one of the most popular ways to garden due to a variety of benefits to the gardener, including people with limited physical ability and those who simply want an easier way of gardening. Raised bed gardening is more efficient in fertilization, water conservation and weed control. Make sure you lay a black plastic sheet onto the area where you are going to set up your raised bed to kill and control the weed. Garden pest are easier to control as well in raised beds than those without it. It also has more production per square foot of space.
We also sell rustic log wood raised bed.
If you need information on filling up your raised bed or installation, click the appropriate links for our product care section.

MRB-412 with six posts, 4'wide x 12' long x 2' height L- shape raised bed
Key features
Northern white cedar wood is naturally rot resistant, essential for long-term use. We do not apply any chemical sealer or stain on the wood we use.

We use 3/4" heavy cedar tongue and groove panels to construct the wall slats.

The tops of the 4x4 corner posts are chamfered, two sides are dado cut for the yellow cedar panels to slide in, the interlocking tongue and groove will lock the panels together providing a strong wall that will prevent warping.

The actual height of the retaining wall is 21" and overall height is 24" (w/post). Height of the cedar walls can be adjusted easily by adding or taking out cedar side panels.

Different layout styles such as the 'U' shape gives you the opportunity to create your garden in a variety of different ways.
Pricing & Purchase
| | | | | |
| --- | --- | --- | --- | --- |
| Item | Description | Price | Sizes* | |
| MRB-46 | Cedar wood Raised Bed, 4 posts | $111.34 + shipping | 4'W x 6'L x 2'H | |
| MRB-412 | Cedar wood Raised Bed, 6 posts | $178.30 + shipping | 4'W x 12'L x 2'H | out of stock |
| MRB-418 | Cedar wood Raised Bed, 8 posts | $241.80 + shipping | 4'W x 18'L x 2'H | out of stock |
| MRB-46-L4 | Cedar wood L shape Raised Bed, 4' wing | $206.23 + shipping | 4'W x 6'L x 2'H | out of stock |
| MRB-46-L6 | Cedar wood L shape Raised Bed, 6' wing | $226.45 + shipping | 4'W x 6'L x 2'H | out of stock |
| MRB-412-L6 | Cedar wood L shape Raised Bed, 6' wing | $307.45 + shipping | 4'W x 12'L x 2'H | out of stock |
| MRB-412-L4 | Cedar wood L shape Raised Bed, 4' wing | $287.30 + shipping | 4'W x 12'L x 2'H | out of stock |