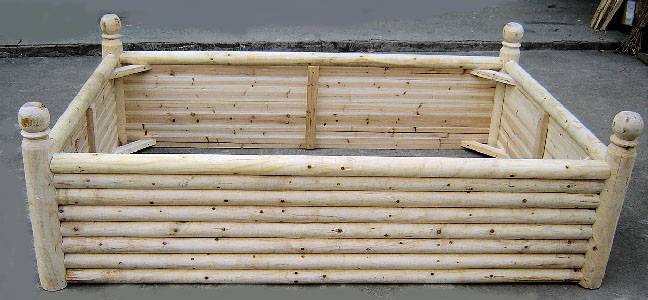 4'W x 6"L Seated log raised bed LRB-46S
This western frontier style log raised bed is excellent as a flower bed and vegetable bed. The round log top of the bed can be used as a seating board for leisure purposes.
The standard size of our seated log wood raised bed is 4'W x 6'L or the extended bed of 12' and 18' long. Split round log panels are inserted into the dado channel on the posts, wood screws are provided to secure the panels.
Raised Bed Gardening is becoming one of the most popular ways to garden due to a variety of benefits and those who simply want an easier way of gardening. Raised bed gardening is more efficient in fertilization and water conservation. It also gives you an increase of production per square foot of space and garden pests are easier to control in a raised bed as well.
Key Features
Northern white cedar log wood will last many years in your garden.

The whole round log at the top of the bed wall can be used as a seating board.

Option of posts with or without ball finials.

The actual height of the wall is 21" and overall height is 2' (post). Height of the cedar walls can be adjusted easily by adding or taking out cedar side panels.

20" high seating

20" high seating gardening excellent for older person, comfortable gardening.

Four half round seating board on 4 sides.

No chemical finish for organic gardening.
Pricing & Purchase
| | | | | |
| --- | --- | --- | --- | --- |
| Item | Description, Pick your option of Posts Finial after add to Cart | Price | Sizes | |
| LRB-46S | Seated log wood Raised Bed, 4 posts with or without Ball Finial. | 177.61 + shipping | 4'W x6'L x 2'H | |
| LRB-412S | Seated log wood Raised Bed, 6 posts with or without Ball Finial. | $288.21 + shipping | 4'W x12'L x 2'H | |
| LRB-418S | Seated log wood Raised Bed, 8 posts with or without Ball Finial. | $388.72 + shipping | 4'W x18'L x 2'H | |