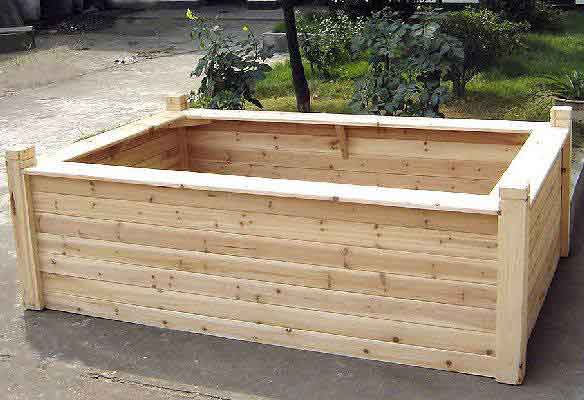 Seated raised bed SRB-46, 4'W x 6'L Showing inside construction
Our seated raised bed is constructed with northern white cedar, and the added seating allows you to relax while gardening. This beautiful and very practical raised bed is suitable for residential and commercial uses. 20" high for comfortable seating.
Our raised bed kit comes in many sizes to fit your gardening needs. Shipped disassembled.

Seating raised bed SRB-46, 4'W x 6'L Seat support for middle of post of 12' & 18' L beds




Download Manual for Standard 4 Posts Seated Raised Bed

Download Manual for 6 and 8 Posts Seated Raised Bed

Key Features
Naturally rot resistant Northern white cedar cedar wood will last many years in your garden.

Seating capacity adds charm as well as a comfortable resting place.

Four heavy duty 4x4 cedar corner posts highlight the corners.

The actual height of the wall is 20" and overall height is 2' (post). Height of the cedar walls can be adjusted easily by adding or taking out cedar side panels.

20" high seating gardening excellent for older person, comfortable gardening.
Pricing & Purchase
| | | | | |
| --- | --- | --- | --- | --- |
| Item | Description | Price | Sizes* | |
| SRB-46 | Cedar Seating Raised Bed, 4 posts | $134.05 + shipping | 4'W x6'L x 2'H | out of stock |
| SRB-412 | Cedar Seating Raised Bed, 6 posts with bracers. | $198.21 + shipping | 4'W x 12'L x 2'H | out of stock |
| SRB-418 | Cedar Seating Raised Bed, 8 posts with bracers. | $268.80 + shipping | 4'W x 18'L x 2'H | out of stock |