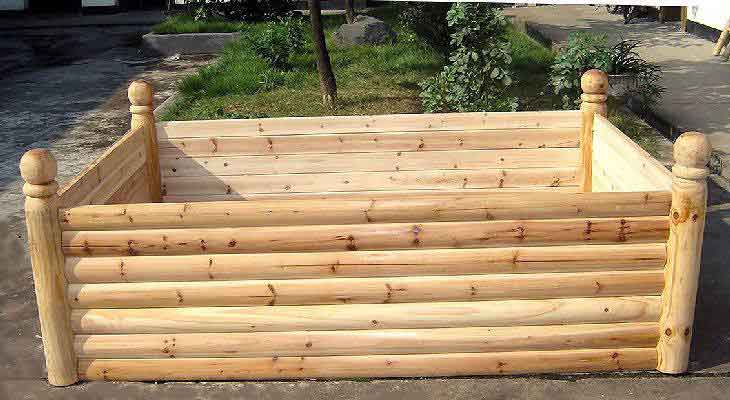 LRB-46 Log raised bed 4'W x 6'L
Our white cedar wood Log wood raised bed is our newest addition to our raised bed kits. It is constructed of round and half round cedar wood . The 3.5" diameter round log posts have ball finial built build into it.
The standard size of our cedar log wood raised kit is 4'W x 6'L or the extended bed of 12' long.. Split round log panels are insert into the dado channel on the posts, wood screws are provided to secure the panels.
Raised Bed Gardening is becoming one of the most popular ways to garden due to a variety of benefits to the gardener, including people with limited physical ability or those who simply want an easier way of gardening. Raised bed gardening is more efficient in fertilization and water conservation. Garden pests are easier to control in raised beds as well, leaving gardening less stressful. The most important aspet of all is the increase of production per square foot of space.
Key Features
Northern White Cedar log wood will last many years in your garden.

Our cedar beds are finished with wood sealer to protect it from the outdoor elements.

The tops of 4x4 corner posts have ball finials built directly into it.

The actual height of the wall is 21" and overall height is 2' (post). Height of the cedar walls can be adjusted easily by adding or taking out cedar side panels.

Posts with optional ball finial.

Weed control is easy with raised bed gardening. Make sure you lay a black plastic sheet onto the area where you are going to set up your raised be to kill and control the weed
Pricing & Purchase