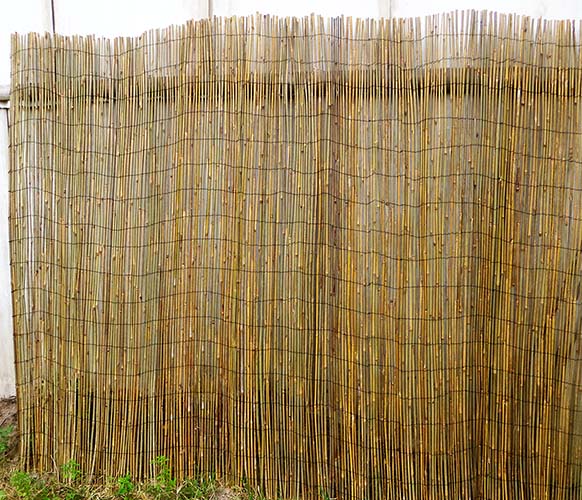 BWF-14 used for shading in outdoor
Bamboo can be used in many different ways, such as fencing and screens in a wide range of styles to compliment your gardens, ponds, courtyards, decks and patios. This is a low see-through fence that can ease the transition between diverse areas in a landscape. These bamboo fence screen adjacent to a house will provide privacy and can be used to screen out an undesirable view. They are excellent as shadeing matrial for the roof top of pergolas or any garden sturctures because they are lighter weight than most other bamboo fencing.
These cost effective woven bamboo poles fence are woven with 3/8" solid bamboo poles with black nylon coated wire, they are strong and easy to work with, and will go around any corner of your garden. The flexible nature of rolled bamboo fences are an excellent choice for fencing on uneven landscapes residing on slopes. Tie them with 2 x2 cedar stringers or bamboo stringers with galvanized wire for horizontal supports. Ask any other bamboo fencing companies if they offer nylon coated wires like we do!
If you need more information on installing your garden rolled fences, please click Installing Rolled Fences. You may also be interested in the bamboo doors, to complete your fencing design. We also provide bamboo caps to add onto the fences for a finished look.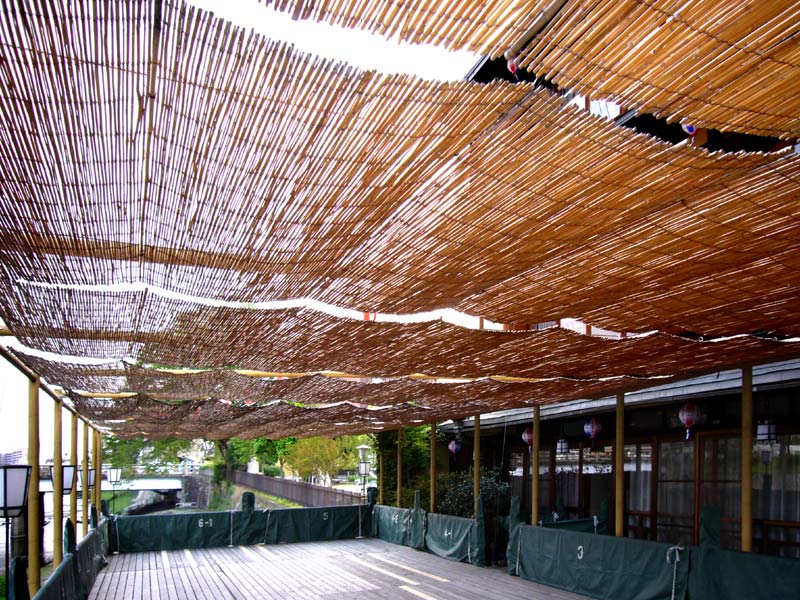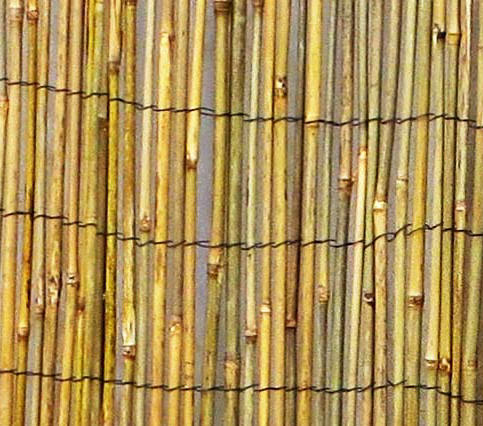 Used as overhead shading material for pergolas or decking close up look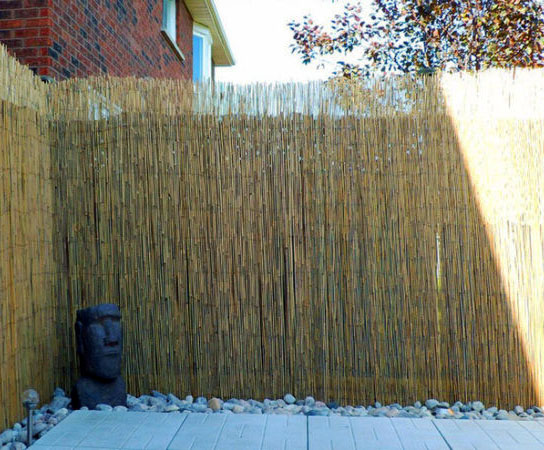 Key Features
The rolled bamboo fences are flexible enough go around any corner of your garden.

Excellent for shading material for pergolas or any garden structure.

Provide privacy and screening.

Rolled pole fences are woven together with 3/8" to 1/2" diameter bamboo poles with non-rusting black nylon coated wire.

They are 8' long, height options are 8', 6'and 4'.
Pricing & Purchase
| | | | | |
| --- | --- | --- | --- | --- |
| Item | Description | Price | Sizes | |
| BWF-88 | Woven Bamboo Poles Fence, 8' long, 8' height | $82.22 + shipping, | 8'L x 8'H | |
| BWF-14 | Woven Bamboo Poles Fence, 8' long, 6' height | $59.76 + shipping, | 8'L x 6'H | |
| BWF-4 | Woven Bamboo Poles Fence, 8' long, 4' height | $34.13 + shipping, | 8'L x 4'H | |