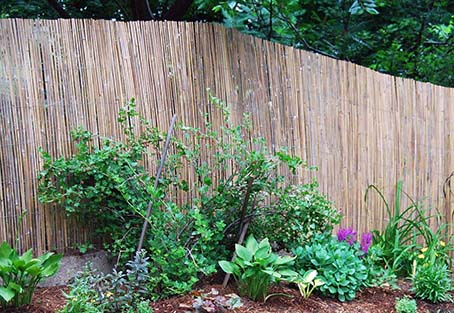 Aged Bamboo slat fence installed in the garden Close up look
Rustic split Bamboo slat fences have been used for centuries in many regions of the world where bamboo is available. It can be used on its own or attached to cover a chain link fence for added beauty and privacy. They are inexpensive and easy to install.
Our bamboo slats or split bamboo fences are woven together with black nylon coated wire, as oppose to other split bamboo slat fences in the market that usually tie their fences with bare metal wire exposing unsightly metal and rust. The fence is semi-opaque, which provide some privacy (not as much as a privacy fence). The unique color of the bamboo slats makes it one of the most gorgeous and striking, looking bamboo fences in the market today. The bamboo slats we use are about 1/2"wide. They are packed in rolled form for convenience in shipping and setting up.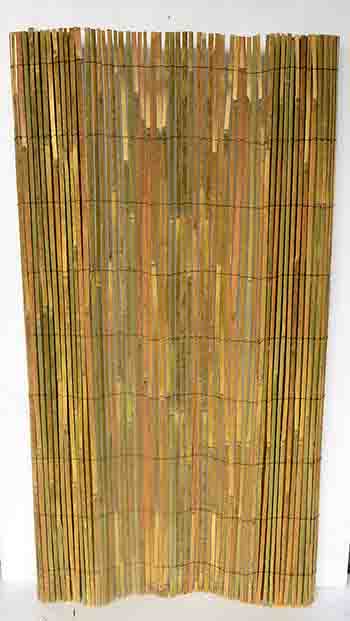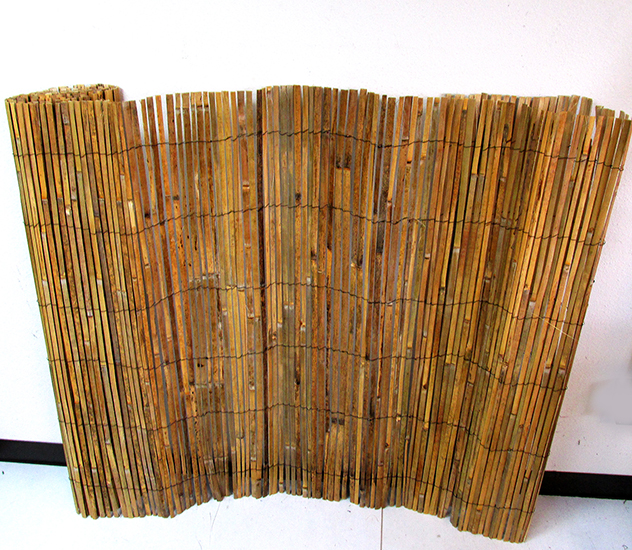 SBF-96, 6' high. SBF-84, 4' high
Key Benefits
The tropical and unique look of natural bamboo will make for an attractive screen or fence for your garden.
Individual pieces of slat bamboo are woven together with black nylon coated wire to make a strong natural looking bamboo fence.
Ideal for concealing unwanted fencing or existing structures.
Black nylon coated wire included to prevent rust.
Made with environmentally friendly, all-natural bamboo.
Pricing & Purchase
| | | | | |
| --- | --- | --- | --- | --- |
| Item | Description | Price | Sizes | |
| SBF-98 | Bamboo slat rolled fence, natural color | $76.26 + shipping, | 14'L x 8'H | |
| SBF-96 | Bamboo slat rolled fence, natural color | $57.34 + shipping, | 14'L x 6'H | out of stock |
| SBF-95 | Bamboo slat rolled fence, natural color | $47.28 + shipping, | 14'L x 5'H | out of stock |
| SBF-94 | Bamboo slat rolled fence, natural color | $39.62 + shipping, | 14'L x 4'H | out of stock |
| SBF-92 | Bamboo slat rolled fence, natural color | $21.22 + shipping, | 14'L x 2'H | out of stock |