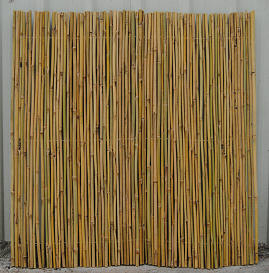 Thick Wall Tonkin Bamboo Rolled Fence, BWF-66, 72 " hight
Tonkin Bamboo culms are straight, thick walled with non-prominent nodes. They are the most durable of all bamboo species. They make excellent privacy bamboo fences with their naturally straight and compact form, making less porous fence screen. Tonkin bamboo last longer than other bamboo materials. These quality constructed bamboo fences are crack resistant and make excellent outdoor bamboo fencing. They are available in 4', 6' and 8' high.
Use these bamboo fences in outdoor or indoor settings, as well as privacy fencing or screening in commercial premises or residential homes. These bamboo fences come in rolled form, so they are flexible and easy to set up in tight spaces as well as on sloping, un-leveled landscape. We also do custom sizes, please call for pricing and availability.
Need information on installing your rolled bamboo fences? Click Installing Rolled Fences, for more information. You may also be interested in our bamboo door or gate, to complete your fencing projects. A variety of bamboo caps can also be added to the fences for a finished look.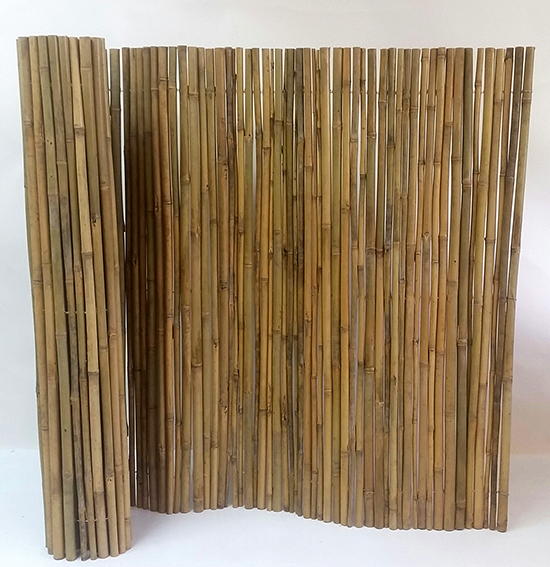 Thick Wall Tonkin Bamboo Rolled Fence, BWF-48, 48 " hight
Key features
We use mature Tonkin Chinese bamboo poles for long lasting fences. Will last up to 20 years.

Thick wall bamboo poles are trilled and strung on heavy galvanized wire so you are not able to see the wire. Nylon coated heavy galvanized wire will not rust in the outdoors.

Bamboo poles used in our fences are cleaned and processed with a coat of natural bamboo oil for protection.

Custom lengths are available. Any lengths less than our standard length will be calculated by the average feet per cost from the price of the rolls, plus $15.00 service charge. Please contact us for more information
Pricing & Purchase
| | | | | |
| --- | --- | --- | --- | --- |
| Item | Description | Price | Sizes | |
| BWF-66 | Tonkin Bamboo Fence, 3/4" diameter poles | $96.27 + shipping, please contact us for discount freight for 8 rolls& over | 8'L x 6'H | |
| BWF-86 | Tonkin Bamboo Fence, 3/4" diameter poles | $97.41 + shipping, please contact us for discount freight for 8 rolls& over | 6'L x 8'H | |
| BWF-888 | Tonkin Bamboo Fence, 3/4" diameter poles | $129.20 + shipping, please contact us for discount freight for 8 rolls& over | 8'L x 8'H | out of stock |
| BWF-60 | Tonkin Bamboo Fence, 3/4" diameter poles | $78.46+ shipping, please contact us for discount freight for 8 rolls& over | 8'L x 5'H | |
| BWF-48 | Tonkin Bamboo Fence, 3/4" diameter poles | $68.20 + shipping, please contact us for discount freight for 8 rolls& over | 8'L x 4'H | |
| BWF-46 | Tonkin Bamboo Fence, 3/4" diameter poles | $50.35+ shipping, please contact us for discount freight for 8 rolls& over | 6'L x 4'H | |
Big poles bamboo fences custom length available, any length less than our standard length will be calculated by the average per feet cost from the price of the roll plus $12.00 service charge. Please contact us 1-800-574-7248 or email us for more information