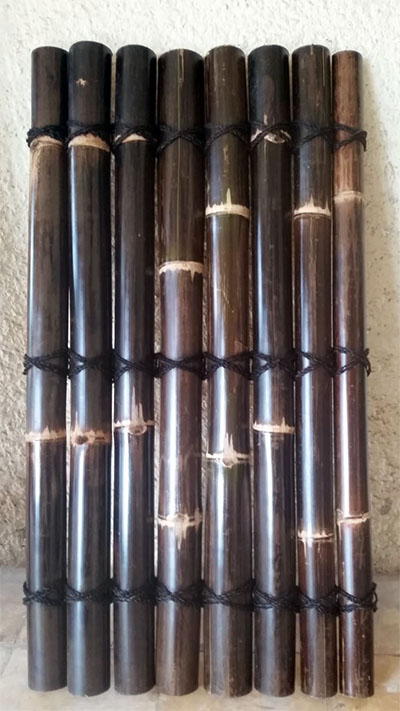 bamboo fence SBBF-96 SBBF-94, 48" high by 24" wide
Split large black timber bamboo fences strung together with thick wall Timor Black bamboo from Indoneisa. These extra thick timber bamboo are between 2.5-3.5"" in diameter. There are 6 rolls of galzanized wire with black bamboo twine. The black bamboo twine are both decorative and provide extra strength to the intergraty of the fence..
These split black bamboos fence with bamboo twine is very unique and distinque.. The color and pattern resembles the woodlands seen in these fences. Use these natural looking bamboo fences in the outdoors or indoors, as privacy fences or decorative purposes in commercial premises or residential homes. These bamboo fences come in rolled forms, so they're flexible and easy to set up in tight spaces.
Need information on installing your rolled bamboo fencing? Click Installing Rolled Fences. You may also be interested in our bamboo doors, to complete your fencing projects. A variety of bamboo caps can also be added to the fences for a finished look.

SBBF-94 rolled up. Back of the fence

Key Benefits:
We use mature, Indonesian Ti,mor black whole bamboo posts for long lasting fences. Will last up to 20 years. Bamboo poles used are a minimum of 3" and up to 4" in diameter.

Split black bamboo used in our fences are cleaned and processed with a coat of natural bamboo oil for protection.

Natural black bamboo will varies in color tone.

Black twine add strength and uniuqe theme to the fence.

Ship in rolls to reduce shipping.

Great for outdoor fencing and indoor wall cover use.

Easy installtion just unrolled and secure the fence to the supporting poles with galvanized screws.
Pricing & Purchase
| | | | | |
| --- | --- | --- | --- | --- |
| Item | Description | Price | Sizes | |
| SBBF-96 | Splite Black Timber Bamboo fence with black bamboo twine. | $58.76 + shipping, please contact us for discount freight for 10 rolls& over | 6'H x 4'L | |
| SBBF-94 | Splite Black Timber Bamboo fence with black bamboo twine. | $48.84 + shipping | 4'H x 4'L | |